Annie, share 3 few fun facts about yourself:
My siblings are my wealth. Having 7 siblings nurtured creativity.  I always had hand-me-downs, so I had to alter my clothes!  Rolling the sleeves, cuffing the hems, and making them my own in other ways made me creative and resourceful as a stylist.
I met my husband on a dude ranch in Wyoming.
I am guided by my emotions. They help me better understand my clients and feel empathy for vulnerabilities. Now I need to have more empathy for myself!
Tell us what you do professionally, and how you would describe your personal style?
I am a stylist, so I help people create a wardrobe that suits their lifestyle. In my experience, people often want to portray a certain image of themselves, but if you go into their closet, the desire and the clothes don't match. I help them create the wardrobe that goes with their desired image.
My personal style is a little eclectic.  It's west-coast-meets-preppy-meets-city. And it's layered. I love the casual attitude of the west coast style is casual, but I like to also mix the glamour of the city to funk it up. I mix and match quite a bit, including high & low labels. For example, I wear my old school Levi's with my Stella McCartney coat on top. I don't have a lot of fear in how I dress.
Individuality is important to me. If I see something I own on a lot of other people, I will be less interested in keeping it.  I'm not that interested in trends for myself… I believe you have to understand your own style before you go big and really spend on a trend.  Right now, the predominant trends in fashion are bold colors and big prints.  My philosophy is, if that fits into your natural style, invest. If not, you're better off buying those types of items from Topshop or Zara.
Has your style changed over the years?
It's constantly evolving!  Because, again, I make emotional fashion decisions. You can tell the way I'm feeling by the way I'm dressing. For example, today I am wearing a sweater that makes me look like cheerleader, and I think I put it on because the winter in Chicago is so dreary that I needed something that gave me power. It makes me happy!  It's negative 4 degrees (again) but I have on a cute new sweater so nothing can get me down.
Another example …when I got back from Paris (Annie visited me a few weeks ago), I put on a long poplin cotton dress that was so over-the-top! I came off of such an amazing weekend, I felt so great and ready to take on the world after it that I wanted to reflect on that and own it.  I think of clothes almost as my armor … you can't take away my happy!
Speaking of Paris, have travel and/or living in different places (she's from Portland, Oregon and has lived in NYC) influenced your style?
Grunge was my first influence growing up in Portland, Oregon!  Ironically, around that same time my mom would suggest Florence Eiseman –  but that didn't work for me. I wanted to make whatever I had to wear my own, so I would at least add my own belt. I've always been that way…long before I was a stylist. I lived in NYC for 7 years and would get influences on the street, but I wanted to make those my own too.  To that end, I would try to find a colorway that no one else had, or layer in an accessory in a unique way. Right now, I'm obsessed with finding cool reading glasses ("readers") and incorporating them into my outfits.  Perhaps that sounds silly, but I'm psyched!  Check out @eyebob and you will be too.
At this moment, what are some of your favorite pieces or looks?
This madras, plaid COMME des GARÇONS t-shirt that I'm wearing today. I usually hate madras plaid, but something about it makes me so, so happy. And I think that all 3 of my daughters will want to wear it someday because it's so happy and fitted.
My Sprwmn wide leg, flared leather pants. The magic is in the waistband – it's wide and hides a pooch.  I'm really moving away from skinny jeans so I like this alternative.
My Stella McCartney coat. It's the perfect blend of pulled together, preppy, and city chic. I love that it is navy instead of black (my kids say I already wear too much black), the cool striped collar (it's like a built-in scarf!), and the fit.
Are you personally more of an external shopper or a shop your closeter? Do you shop by season?
Herein lies the problem: because I am a stylist, I am basically in retail stores 3x/week! Therefore, I am constantly bombarded with new ideas and inspirations.  This causes me to be both an external shopper and a shop-my-closeter. People ask "how do you not shop for yourself every day while working??" My typical response is that rarely shop for myself (although my husband would disagree).  So I do shop… but I also play around in my closet as a result of being in stores so often.  Seeing all of the new merch and styling in stores causes me to re-think my own styling and constantly approach it with a different lens.
When I do purchase something new, I tend to wear it 4 days in a row. I get so excited!! For example, with a new top, I'll want to test it out on a pair of jeans, a skirt and my leather pants.
What brands are you waiting for people to discover?
Mansur Gavriel, Stella Jean, and Sacai. She started the brand as a single mom, which really inspires me.  Here are a couple of my picks:
1.  Mansur Gavriel Coat Laminated Check Coat, Shop HERE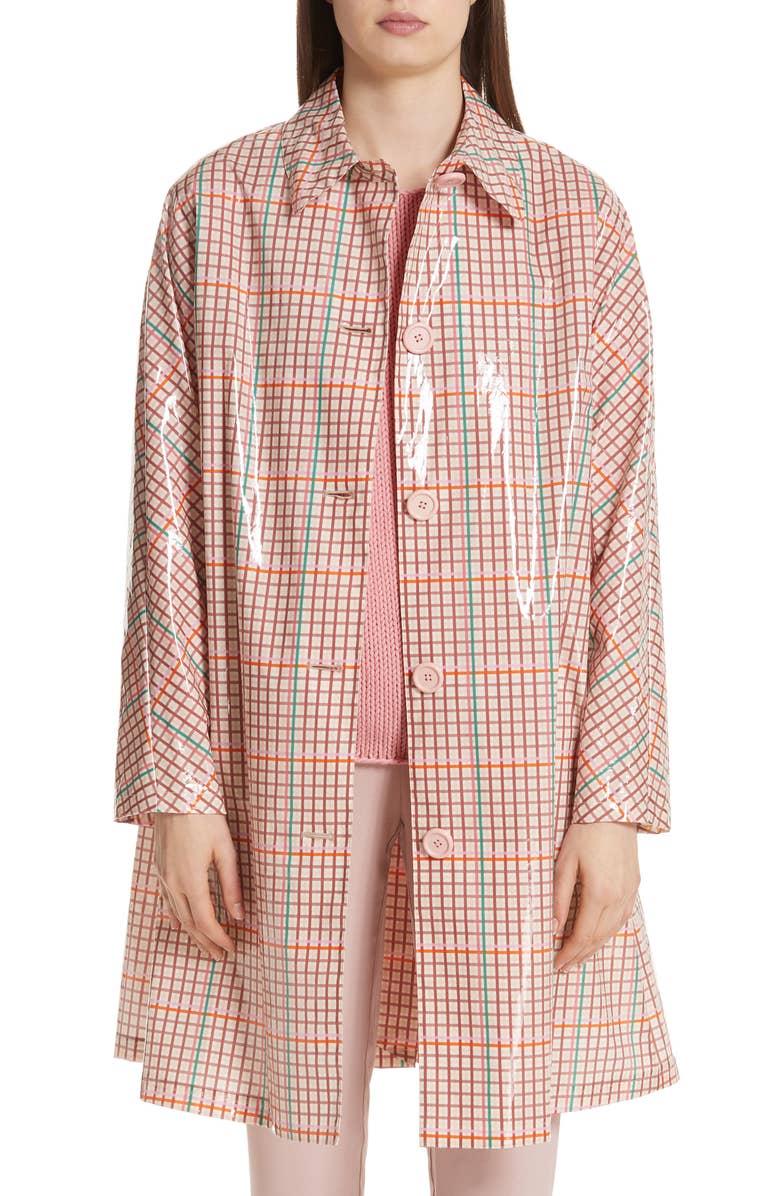 2.  Sacai Tie-Waist Ruffle-Hem Maxi Skirt, Shop HERE
Given that you're a stylist, we're gonna need you to lay down some sage closet advice as food for thought….
It's really important to have diversity of fabrics, details, and patterns in your closet.  Although it's natural human behavior to buy the same things over and over again, you don't want to have the same sweater in six colors… that's what gets us into a rut, and leads to you feeling like you have nothing to wear!
I love a smaller wardrobe. I'd rather see a great 25-piece or 40-piece wardrobe than one that goes on and on and includes things that are repetitive, don't really fit, or don't make the person happy.
Also, don't wear clothes that hide your figure. Whatever figure you have is beautiful.  If you wear things that are too big, you will look bigger. If you wear something that is nicely fitted around that waist instead, you'll look more beautiful. Love who you are and love what you have.

Who inspires you on IG?
Eva Chen @evenchen212, Medical Medium @medicalmedium, Donald Robinson @drawbertson. Love his tape art and his positive attitude.
I'm obsessed with the idea of work/life balance. It's a unicorn for me. What does balance look like/mean to you?
I am not a morning person, but I have realized I feel more alert and happy if I just have a little time to myself to get organized in the morning. If Dan and I can have an easy time getting the girls out the door, and I can have a cup of coffee and watch the first 20 mins of the Today Show to ground myself, I tend to feel great.
I'm really trying to take fewer styling clients because it's hard for me to say no and I need more personal time.  I'm getting better at this.  Right now, I'm focused more on building my blog and instagram. Philanthropy is important to me, so I'm making more time for that as well with the time I have from taking on less clients.
Tell us about your blog so we can support a wonderful woman & talented woman like you!
I'm on IG @theyes_please. I will have a blog coming in 10 or so days.  The purpose of the blog will be to show you items that I find in the marketplace as a stylist–if you want them, you can buy them there. I mix high & low, so you'll see a $30 sweater next to $500 earrings that I can't wear enough of. Admittedly I'm a little bit shy about it because of my constant inner battle with social media. I anticipate it might be a little raw and imperfect, but that's me at the end of the day. But I really love what I do as a stylist, it brings me joy and I want to share that!
And I have a fun story… check out this link and the picture of my home below to find out about these tennis shoes and the heirloomist!